The student's version (Prado) - Leonardo's version (Louvre)
In
February 2012
I told you about a recently rediscovered and cleaned contemporary painting of the Mona Lisa (La Gioconda in Italian; La Joconde in French) at the
Prado museum
, possibly made by one of
Leonardo Da Vinci
's students.
Infrared and X-ray analysis of the Prado Mona Lisa found underdrawings and alterations from the tracing and all the way through the upper paint levels that matched those in 2004 scans of the Louvre Mona Lisa. That means that, from the initial sketches to the changes and corrections as painting progressed, the Prado Lisa followed the Louvre Lisa at each stage.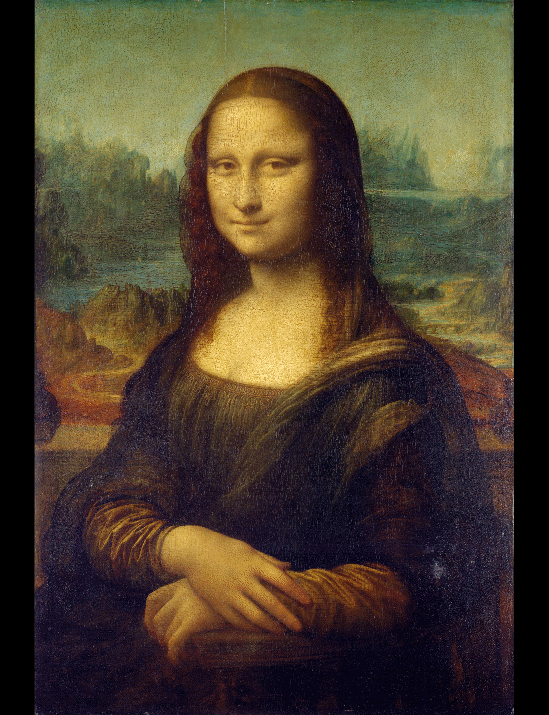 From Prado's Mona Lisa to Louvre's Mona Lisa
Two German researchers found that the background of the Prado painting, while virtually identical in shape, is 10% more zoomed in than the Louvre version. They also discovered a number of particularly dense perspective changes in Mona Lisa's hands and head. With these data the researchers were able to calculate the positions of the canvases relative to the sitter and then they made a model of
Leonardo
's studio during the painting of the Mona Lisa (with Playmobil).
The original (labeled 1st) is further back and to the right of the Prado version.
The horizontal distance between the versions is about 69.3 millimeters. The average distance between the eyes of Italian males is 64.1mm, a statistically insignificant difference which suggests the possibility that the two paintings might have been deliberately positioned to be a stereoscopic pair which when viewed together give the impression of three dimensions.
When looking at the original colors of the two paintings the only real difference is in the sleeves, in which they are reddish in one version and greenish in the other. When combined the hands work as a stereoscopic pair indeed.
sources:
www.thehistoryblog.com
&
www.experimental-psychology.de/SOM_CarbonHesslinger2013_MonaLisa3D.html